Wildlife, Rodent, & Pest Control Services
Have an issue? Contact us today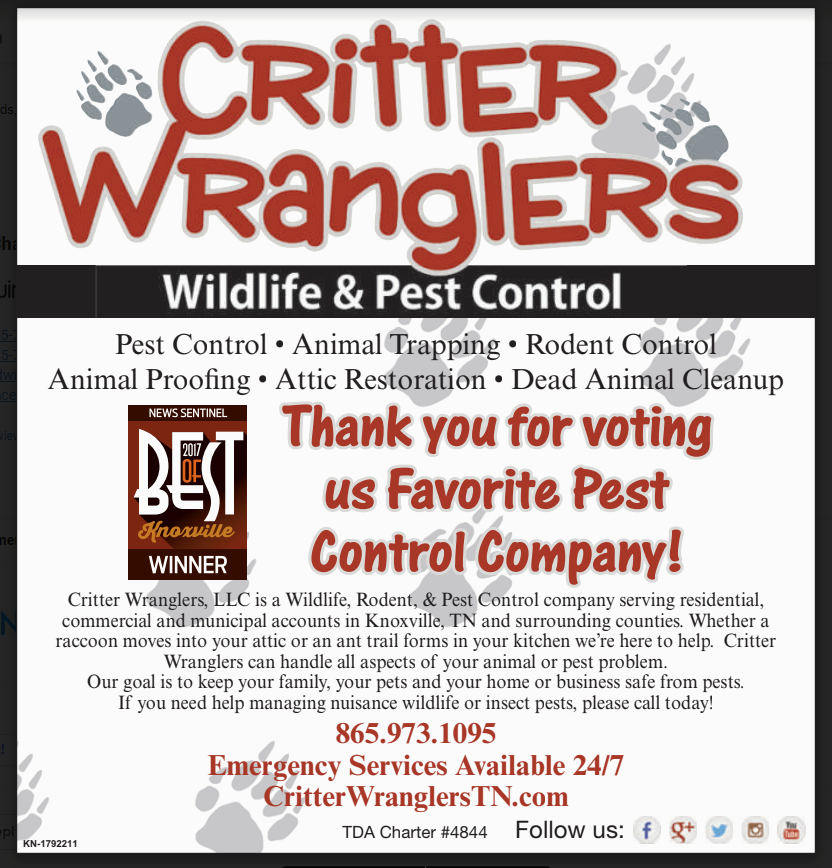 Critter Wranglers Voted Favorite Pest Control Service In Knoxville!
We are thrilled to announce that we have just won a "Favorite of Knoxville" award! For the second year running, we are honored and humbled to be voted "Favorite Pest Control Company in Knoxville". First, we want to sincerely thank all our loyal clients who voted for us — it means a great deal to us! We sincerely appreciate your support and your business. Your health, safety, and satisfaction are our priority and we're dedicated to making your lives a little more comfortable without worry or fear of critters and creepy crawlies taking up residence in your home. Secondly, we are grateful to the Knoxville News readers who also voted for us. What an honor! We feel privileged to win such a renowned award in our community from the people who make our community so special. Thank you so very much for voting for us.
Top Rated Local® Pest Control In Knoxville, TN
About Our Pest and Wildlife Control Company
For those of you who have not worked with our pest control company before, Critter Wranglers is a full-service pest, wildlife, and rodent control company. Our pest control services range from animal trapping, skunk removal, raccoon removal, and groundhog removal to spider control, earwig control, and so much more! We offer top-notch animal proofing to prevent critters from ever invading and re-invading your home. Additionally, we provide dead animal cleanup and removal, attic restoration, and wildlife control. We proudly serve the communities in and around Knoxville and Powell, Tennessee.

Customizable Pest Control Services
All our pest control, wildlife control, and rodent control services are completely customizable to meet your specific needs. Our pest control technicians are friendly, licensed, experienced, and reliable. In fact, we are on call 24/7 to help you anytime, day or night. We offer safe, effective, and humane pest control, removal, and trapping techniques to get the job done right.
Request A Free Quote
Call Critter Wranglers today for award-winning, Top Rated Local® pest control in Knoxville, TN, and the surrounding areas. When you have a pest, wildlife, or rodent problem, we have a winning solution. Call us at (865)973-1095 for a FREE quote or request an estimate online!