Signs of Cockroach Infestations
The first and most obvious sign you have a cockroach problem is if you see one or more of them in your home or business. Even if you just see one, chances are there are more. If you spot a roach, be sure to contact Critter Wranglers right away for cockroach control services.

While in many cases you won't be able to smell the roaches yourself, they leave behind some very distinct odors you can look out for. You may smell a musty, oily odor in your home or business. This smell is very potent and can be detected even if there are only a few roaches.

Even if you don't see any roaches, that doesn't mean that they aren't there. If you need cockroach control services, you will find signs like droppings, egg casings, and more that suggest you have a cockroach problem.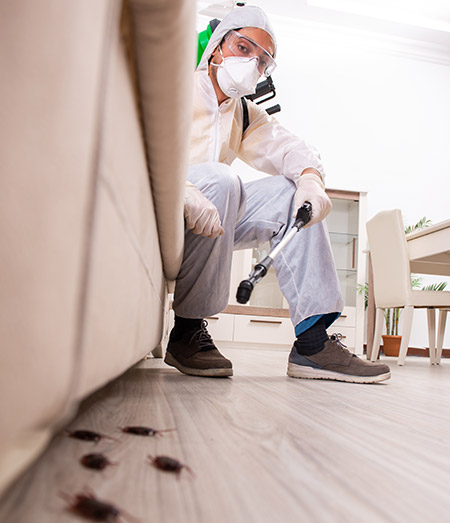 Cockroach Control Services
Most of us shriek at the sight of a cockroach, and for good reason. These little critters can be quite the pest if they invade your home. It is a proven fact cockroaches are one of the most adaptable insects; this makes them extremely hard to eliminate and control. When you hire the right team to take care of the job, it can be done safely and efficiently. Critter Wranglers in Knoxville, TN can help you with your cockroach control needs. Reach out to us right away if you suspect you have a cockroach infestation and we'll take care of it quickly and completely.
Why Cockroaches Are Dangerous
While in most cases, roaches will actually run from you, they are not a physical threat to humans. The danger of cockroaches is tied to the health risks they create. In the short-term, cockroaches can create a number of problems for those with air quality sensitivities, like asthmatics and people with allergies. As the cockroach infestation continues to grow, they can leave all manner of germs, bacteria, and diseases behind as they crawl over food and other surfaces you interact with on a daily basis. This can lead to serious, potentially fatal illnesses.
How to Deal With A Cockroach Infestation
You may already be aware that cockroach control is one of the most difficult aspects of pest control for even seasoned professionals. Cockroaches are resilient, versatile, and resourceful. You should never attempt to perform cockroach control services yourself for your home or business. Cockroach control is best left to trained professionals like those at Critter Wranglers out of Knoxville. Our team has a variety of tools, methods, and experience completely getting rid of any cockroaches from your property. If you see even one cockroach, reach out to our team today.
Trust Critter Wranglers For Cockroach Control Services
If you live in Knoxville or any of the surrounding areas, there's no better option for cockroach control than our team at Critter Wranglers. No matter how big or small your problem is, we'll take care of it completely and quickly. Reach out to us today to learn more and to get started.