Termite Control in Knoxville, TN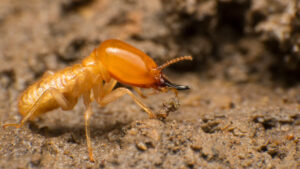 Of the many pests found throughout Tennessee, none are more destructive than subterranean termites. Every single year, termite infestations result in property damage totalling billions of dollars across the United States. These wood-boring pests will literally eat your home in Knoxville from the inside out, chewing tunnels through your wooden structures until they've been hollowed out.
Some pests may be exterminated with DIY methods, but not termites. If you want to get rid of termites in your Knoxville home and provide your property with ongoing protection, you need to work with a professional termite control company.
Reliable Termite Control Treatments
Whether you want to stop an active termite infestation on your property or prevent termites from invading your home in Knoxville in the future, Critter Wranglers is here to help. Our technicians will thoroughly inspect your property, inside and out, for any signs of an active infestation. If we find evidence of subterranean termites, we'll work with you to choose the best treatment method for their removal.
Our team can also perform preventative termite treatments on your property to keep subterranean termites away from your Knoxville home. These treatments may include bait stations, liquid barriers and other solutions. We will perform ongoing termite inspections to make sure our treatments have been effective and your home stays termite-free.
The Best Termite Control Company in Knoxville
When termites infest your home, they can cause severe property damage in a matter of weeks unless professionally removed. Contact Critter Wranglers today for the most effective termite control treatments in the Knoxville area!
Critter Wranglers offers termite control services in the greater Knoxville area including Farragut, Oak Ridge, Powell, and other surrounding areas. Reach out today!