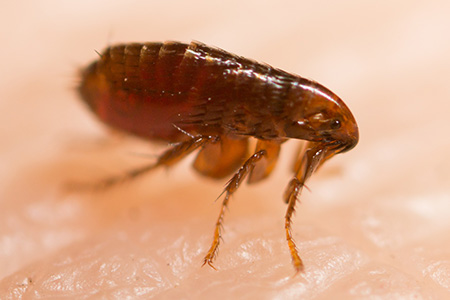 Seeing Fleas
If you look closely, you can see fleas jumping and moving around. They often look like dark, small, oval-shaped insects with hard shells. If you have pets, you might see fleas moving through their fur or attached to their skin.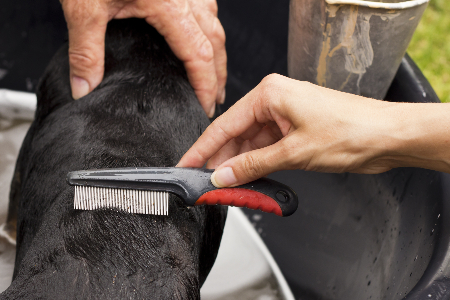 Black Or White Flecks
Look in your pet's bedding and at your pet's body. If you see black and white flecks, there's a good chance you have a flea problem. The dark flecks are known as flea dirt, and they're a clear sign of issues. The lighter flecks are flea eggs and are also a sign of infestation.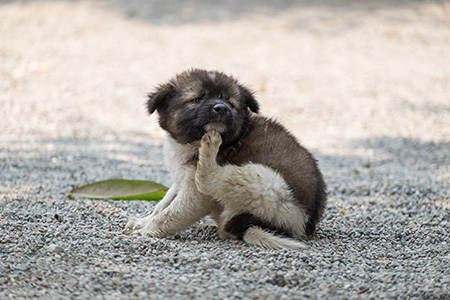 Pets Scratching
This is often one of the clearest signs of a flea infestation because fleas tend to affect pets first. If your cat or dog is scratching themselves excessively, there's a good chance that fleas have made themselves at home and it's time to call us.
Residential & Commercial Flea Control in the Greater Knoxville Area
Is your dog or cat scratching themselves a lot more than usual? Have you noticed irritated spots on your ankles and maybe even seen what you suspect is a flea on your carpet, furniture, or pet beds? There's a good chance that fleas are trying to make themselves at home in your space and on your pets. As parasitic insects that depend on the blood of a host to sustain them, fleas can ride into your home in your dog's fur and quickly set up shop. The good news is, Critter Wranglers can evict them from your property completely. We have the skill, knowledge, equipment, and determination to tackle even the most advanced flea infestation, and we'd be happy to bring peace of mind back into your home.
Top Rated Local® Flea Control Services
When it comes to fleas, we at Critter Wranglers know exactly what it takes to get rid of them. We understand that nobody plans to have a flea problem, and it can be a stressful, even embarrassing situation. That's why we act quickly to eliminate the fleas while respecting you and your home. We want you (and any of your pets that have been affected) to feel at ease again!
Fleas are opportunistic parasites that don't always disappear when you use over-the-counter solutions. They're so small and they reproduce so quickly, it often takes professional expertise to get ahead of the fleas and eliminate them. We use industry-leading equipment and safe solutions to evict all fleas while protecting you and your pets. From furniture to carpets to curtains, we efficiently address the issue. Depending on the situation, we will often provide multiple treatments to address the full lifespan of the flea and make sure you don't have issues down the road. When we call a job done, we want you to be able to believe us, and we'll always go the extra mile to make that happen in a timely and affordable manner.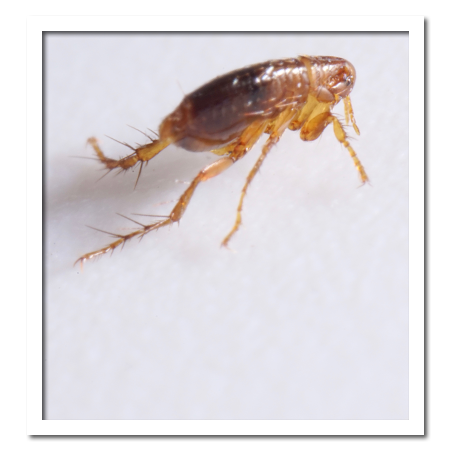 Why Make Critter Wranglers Your Solution to Fleas?
Critter Wranglers is trusted by homeowners and business owners across Knoxville and beyond because we bring something extra to every situation. Our next-level customer service, experience, and dedication to your satisfaction truly set us apart from other local options you might consider. Choose us for flea control because:

We offer friendly, responsive customer service

We are local to the area and want to contribute to our community

We are a Top Rated Local® flea control company

We are rooted in 35+ years of experience

We are certified by the Tennessee Wildlife Resources Agency

We're licensed by the Department of Agriculture
Get In Touch With Us Today
If fleas have you and your furry friends scratching, get in touch with Critter Wranglers. Our specialists will ask all the right questions and create a solution that works for you. We're focused on eradicating the fleas and keeping them away, so we'll let you know if multiple treatments are necessary. Either way, we will handle the situation with care and skill so you can breathe a sigh of relief. Join the residential and commercial clients who trust us with their properties in Knoxville and Powell when you contact us for a free inspection. We look forward to hearing from you!