Attic Remediation And Restoration Services In Tennessee
Has a nuisance animal wreaked havoc on your attic? Critter Wranglers will not only eradicate the pest, but we will also take care of your attic restoration. Contacting our wildlife control company is your first step if you suspect a critter has moved into your residential or commercial space.
You see, when pests and wild animals take up residence in your attic, they often leave behind quite a mess. Not only is there an unpleasant odor from the waste, but the mess these critters leave behind can become a serious health and safety risk. That being said, there's no need to worry when you have Critter Wranglers on your side. In addition to our pest management and wildlife control services, we can also help restore your attic to make it a safer, healthier environment for you, your family, your employees, and your patrons. Keep reading to learn more about our residential and commercial attic remediation services, and get in touch with our team today to schedule an attic inspection.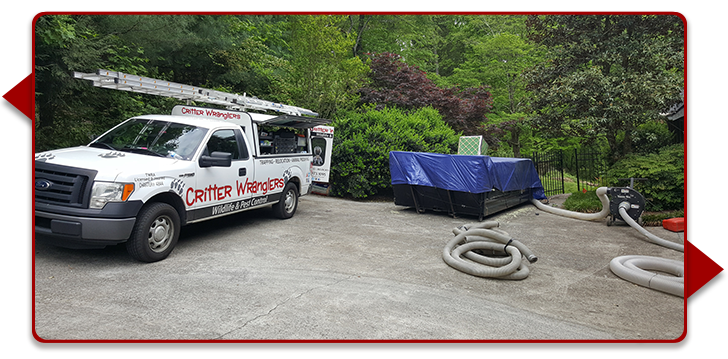 Our Attic Remediation Services
Pest and Wildlife Clean Up

Pest and Wildlife Feces Cleanup

Sanitation and Decontamination

Insulation Removal

Partial or Full Insulation Replacement

Additional Insulation Installation

Residential and Commercial Services

Attic Restoration
Wildlife that gets into your attic can cause quite a mess — and trust us, it's not something you will want to attempt to clean up yourself. From structural damage to the waste left behind, nuisance animals like raccoons, squirrels, bats, and other critters can completely destroy an attic. If you suspect wild animal activity in your attic, then it's time to call in the pros for assistance.
Top Rated Local® Attic Restoration In Powell
At Critter Wranglers, we're committed to restoring a safer, healthier, more comfortable environment in your home or business after an infestation. Once we determine what type of infestation you have in your residential or commercial space, we will tailor a plan to not only remove the critters, but to also prevent re-entry and restore the space so it is free of unwanted animals and any damage they have caused. 
Types of Pests That Love Attics
There are all types of pests and critters here in Tennessee that will find your attic as quite an attractive space. Whether they are seeking a warm place to hunker down during the colder months, or they need a safe and cozy place to raise their young, critters of all shapes and sizes love attics. Oftentimes, they'll enter your attic through existing damage by squeezing into holes, tearing away loose siding or shingles, or getting in through vents or broken windows. The types of wildlife that we typically find in attics include:
Raccoons

Squirrels

Flying Squirrels

Bats

Opossums

Birds

Mice and Rats
Signs You Have Nuisance Animals in Your Attic
Knowing when it's time to call your trusted pest control company is the best way to start the restoration process. Here are a few telltale signs that you may have uninvited guests living in your attic:
You hear scratching and other unusual noises coming from your attic.

You hear unexplained noises and activity overhead at night.

You spot droppings or urine in your attic.

You smell an unpleasant and unusual odor.

You see nests or nesting materials (leaves, newspaper scraps, sticks, torn insulation, etc.) in your attic.

You spot missing or damaged shingles on your roof.

You notice gnaw or scratch marks around rooftop openings and vents.

You find that your HVAC system isn't functioning properly and/or you notice damage like holes in your duct-work.

You find insulation scraps in your air ducts and/or vents.

You actually see the pests living in your attic.
What to Expect During Your Attic Restoration
When it comes to cleaning up an attic and restoring it to what it once was, we want to be as thorough as possible. During your inspection, we will evaluate and identify the animal that has moved into your attic and then determine a plan to safely and humanely remove or relocate it. We strive to get this done as quickly as possible to limit the damage caused by the animal. We then assess the damage caused by the animal to your roof, attic, walls, and siding. Depending on how long the infestation has been going on, there could be little-to-no damage, or there could be a substantial amount. Every case is different, which is why we customize each service according to the damage done.
Will Insurance Cover the Restoration Services?
At this point, you may wish to file an insurance claim to help pay for the removal and replacement of damaged insulation. We can help you get the claim process started with photos of the damage to send to your adjustor accompanied by a report explaining the loss. The entry points will then need to be sealed and filled to prevent re-infestation. Critter Wranglers will not only remove the animal, but we also help you restore the damage the animal has caused to your home. As a full-service pest removal company, we'll get rid of the pest and restore your attic to a like-new condition.
Our Pest Control Services in Tennessee
In an effort to fully protect you, your family, your pets, and your business from all types of pests and critters common to Tennessee, we offer numerous pest and wildlife control services, which we tailor to your specific needs. Explore our full range of services below!
Pest Control
One-Time Pest Removal Treatment

Monthly Pest Control

Quarterly Pest Control

Yearly Pest Control

Exterior Only Pest Control Treatment

Traditional Pest Control Service (Interior and Exterior Treatments)
Wildlife Control
Connect with Your Trusted Pest Control Company in Powell 
If another pest control company has removed your pests, but left you with a mess to clean up, we'll be there to help. We can get your area cleaned up and restored back to its pre-damaged condition, and have it looking even better. Get in touch with our team today! Critter Wranglers proudly serves our communities in Powell, Knoxville, Gibs, Holston Hills, Corryton, and all across Tennessee.
Whether it's a one-time removal of pests or you're in need of a monthly pest control service, we've got you covered. With over 35 years of experience, there isn't a pest problem we can't handle. We serve private residences, commercial spaces, and municipal accounts. Reach out to Tennessee's Top Rated Local® pest control team, who always has your best interests in mind!