Wildlife, Rodent, & Pest Control Services
Have an issue? Contact us today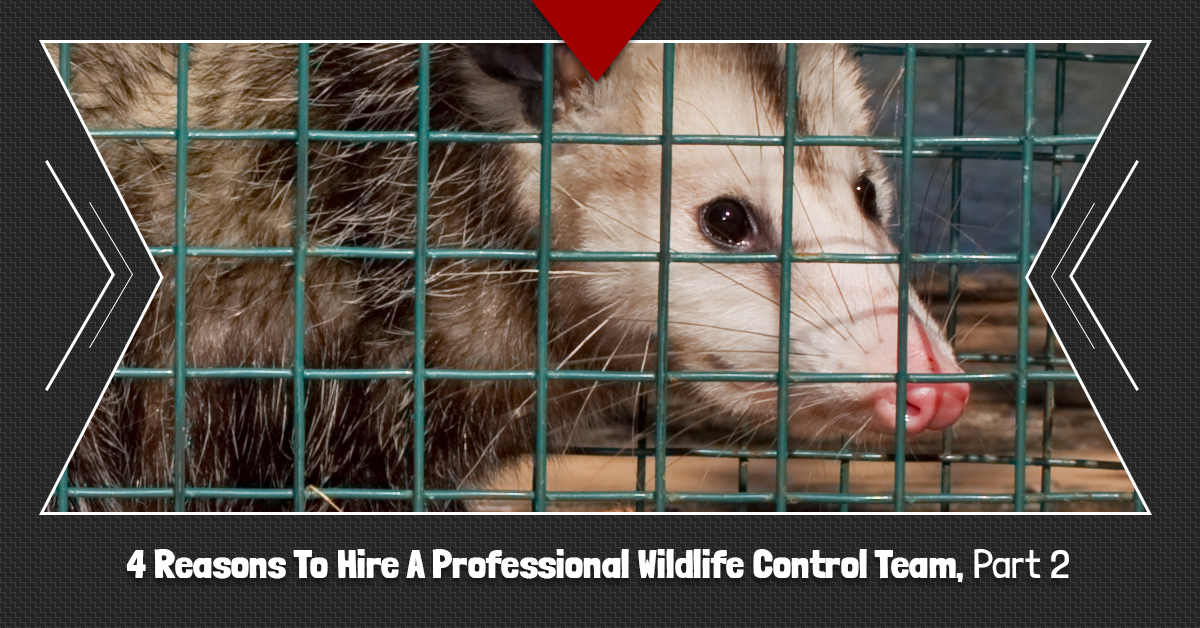 4 Reasons To Hire A Professional Wildlife Control Team, Part 2
There's nothing worse than lying in bed at night listening to the sounds of scratching, scurrying feet creeping through your walls, ceilings, and across your attic floor. In fact, it can be the stuff of nightmares because there is a whole list of what kind of animal or rodent could be making those noises. While there are DIY methods you can use to attempt to get rid of whatever is making those terrible sounds and what is likely causing damage to surfaces and other features of your home, it's best to leave it up to the professionals, and here's why.
In part one of this blog series, we offered several reasons why you should let the experts handle animal and wildlife removal. Wildlife control professionals:
Have undergone the necessary training to obtain the proper certification to safely remove animal intruders.

Have licenses to legally transport wildlife according to guidelines established by the state of Tennessee.

Have years of experience removing animals from people's homes and businesses.

Have the proper equipment and supplies to safely and humanely remove and dispose of animals.
Today, let's look at four more reasons why you should leave animal removal and wildlife control in Knoxville, Tennessee, to experts. Then, call Critter Wranglers and we'll get rid of your wildlife problem for good.
Expert Knowledge
Our team of wildlife control professionals have been working with animals, pests, and other critters for a long time now. We have developed a keen understanding of wild animal behaviors, including their preferred entryways, hiding spots, food sources, and mating patterns, to name a few. We have also determined the best ways to eliminate wild animals from your home, business, or commercial property safely using a combination of methods that are safe, humane, and effective.  
Safer Handling Methods
We know the safest ways to track, identify, remove, and dispose of unwelcome pests, rodents, and wildlife that would otherwise be dangerous for the average person to attempt. We use effective protective gear, strong and durable equipment for trapping, and have received training and licenses to handle commercial-grade chemicals and pesticides if a situation requires their use.
Cost-Effective Solution
Attempting DIY animal removal and wildlife control can be an expensive endeavor. There are kits available in stores and online that may seem effective, but end up not working in the long run. Then, you're left with a costly animal control or removal kit that did not work and you still have nuisance animals on your property. Professional wildlife control is your best option and because it is cost-effective and efficient.
More Effective Than DIY Methods
Professional wildlife control is more effective than DIY methods because experts combine their training, experience, expert equipment, expert knowledge, and efficient methods for complete animal removal with lasting results. Along with removing unwanted wildlife from your yard, experts like us can also help you prevent future invasions.  
Call Critter Wranglers
Don't take on DIY wildlife control; rather, call the animal control experts at Critter Wranglers. Our team will safely remove wildlife from your home while preventing future intrusions, giving you and your family peace of mind. Call us today for Top Rated Local® wildlife control in Knoxville.